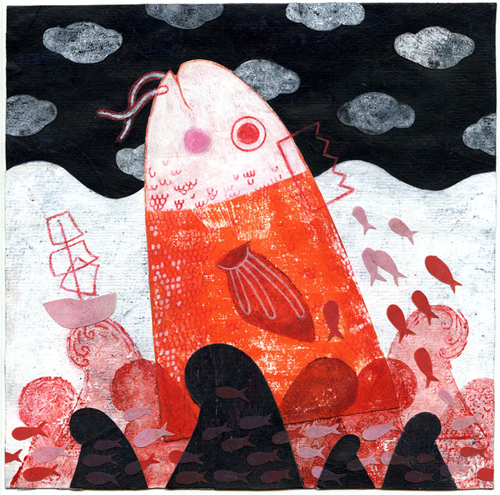 I really like the work of
Marie Mahler
, a French illustrator now living and working in Brussels.
She works in oil pastels and colour pencils and collage—the originals measure about 20 x 20 cm. Best-known for her children's books (published by
Didier Jeunesse
,
Mango
,
Lito
, among others), she also does other illustration work, including: editorial (including
Milan
), stationery and cards, and toy and game illustration for
Djeco
,the wonderful
French toymakers
.
These images are from her beautiful book
Kalimagier
. This picture book, published jointly by
Ricochet
(France) and
Lazhari Labter Editions
(Algeria), was inspired by words that cross over from the French language to the Arabic and back again — indeed, "kalima" means word in Arabic, and "imagier" is French for a sort of picture dictionary. This includes words like Zarafa (giraffe), Quoton (cotton), guitar, café and so on — 100 words in all.
But if not, you can always look at this video, which includes a really interesting interview with Marie (in French), plus a virtual tour of the images and the gallery. Don't miss it!