Tuesday, August 31, 2010
three chickens and oasthouse
three chickens on an overcast day
Posted by

M.
at 8/31/2010 04:38:00 PM
0 comments

What a compelling image. This book cover is by part-time under-the radar designer
David Gee
. Found on
Hanasiana
(interview) via
The Casual Optimist
, the exceptional blog on books, design and culture.
Well done, gentlemen!
Posted by

M.
at 8/31/2010 08:13:00 AM
0 comments

Monday, August 30, 2010
I love this
nightstand
from Rose and Grey, making bedtime so cozy!
Posted by

M.
at 8/30/2010 04:04:00 PM
0 comments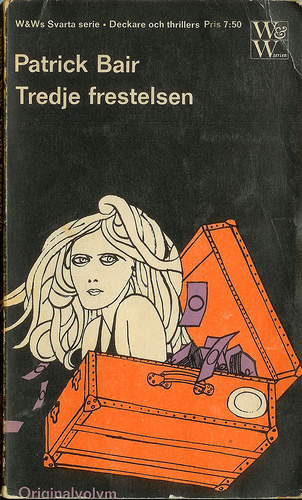 I've been revelling in the book cover illustrations of Per Ahlin from the 60's and 70's.
Posted by

M.
at 8/30/2010 09:38:00 AM
0 comments

Excellent illustrated map of Paris, by Lucien Boucher circa the 1940's. Found on the
flickr photostream of Crossett Library
(at Bennington College, Vermont), whose collection of images is well worth a visit.
As for Lucien Boucher (1889-1971) he was a poster artist and illustrator very active in the 20's, 30's and 40's. He made lithographs, engravings and painting in gouache and watercolour. Even though he is better known for his posters and maps, he's very much the poet laureate par excellence of everyday Paris in the mid-century period, with charming, evocative and droll vignettes of otherwise overlooked subjects.
For more, see:
Ma Brocante à Paris
, which featured a smashing series pharmaceutical advertising in the guise of travel posters, including this one—
And
A Journey Round My Skul
l, which includes Lucien Boucher's illustrations for children's books, in a round-up on that topic.
And, finally,
Ma Galerie à Paris
has a more comprehensive look at his life and work (in French). Here's an example—
Bonne journée, y'all!
Posted by

M.
at 8/30/2010 07:31:00 AM
0 comments

Sunday, August 29, 2010
Welcome! I am curious about so many things — and a magpie to boot, attracted by shimmering bits among the flotsam and jetsam. I always needed a place to keep the shiny odds and ends that I come across. And here it is— a Pocket Eden, all my own.
Posted by

M.
at 8/29/2010 09:34:00 AM
0 comments